EXPERIENCE NATURAL FACELIFT IN AN HOUR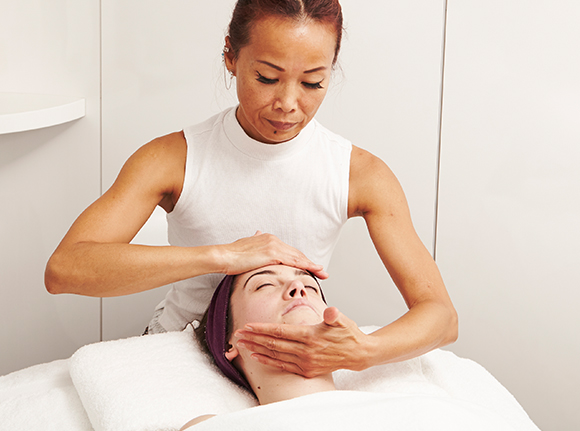 ABOUT
Su-Man's signature facial is legendary. Blending her unique expertise in dance, Shiatsu, pilates and oriental facial massage, the powerful revitalising treatment is beloved by beauty editors, celebrities and legions of fans across the world, who hail it as a 'facelift in an hour' and 'the natural alternative to Botox'.
After a bespoke skin analysis to tailor the facial to your specific needs, Su-Man deep cleanses, extracts impurities, exfoliates, tones and moisturises the face with her carefully designed massage techniques, using her own specially created skincare products. Su-Man's expert firm deep tissue massage to the neck, upper arms, hands and feet completes the experience.
The aim is to rebalance the energy and moisture in the skin, and to reinvigorate all the muscles in the face and surrounding areas. The long-lasting results are a totally rejuvenated mind and body, and skin that looks healthy, lifted and luminous.
---
Refer a friend
They get £70. You get £70
When you refer a friend and they book a treatment with Su-Man, they receive £70 off their first treatment and you receive £70 off your next visit. Should you and your friend book together, the voucher will automatically be applied. To redeem, mention the referral scheme when you book and the name of the referee.
You can invite more than one friend but can only redeem one voucher per treatment. Not valid in conjunction with any other offers. Not valid for skincare products. Offer valid until 31st December 2018.
---
BOOKINGS
Su-Man gives facial treatments at Away Spa W Hotel Leicester Square (normally on Wednesdays and Thursdays every week) and Agua Spa at Sanderson (every Tuesday, Friday and Saturday).
Here are contact details of the respective spas to make an appointment directly:
W Hotel Leicester Square – Away Spa
Book online here
T: +44 207 758 1071
E: awayspalondon@whotels.com
Address: W Hotel, 10 Wardour Street, London,W1D 6QF
Agua Spa at Sanderson
Website
T: +44 (0)20 7300 1414
E: aguaspa@sbe.com
Address: Sanderson London, 50 Berners St., Fitzrovia, London, W1T 3NG
---
TESTIMONIALS
"Su-Man uses these techniques bringing muscles to life –a sort of pilates for the face. Very lucky is the person who can experience as treatment in her hands." Joely Richardson
"I feel truly blessed to have had a facial with Su-Man. The only flip side to this is that once you've had this everything else will pale in comparison." Freida Pinto
"Facials that keep your face alive." Juliette Binoche
"The game-changing facial loved by celebs." SheerLuxe
"The A-list secret weapon that's sure to put a smile on your face." The Daily Telegraph
"Five-star facial." Tatler
"By the time you float out of her studio your skin feels like its illuminated from within." Grazia
"Su-Man is a superhero amongst facialists." Elle
"Top Ten Beauty Treatment in London" Evening Standard
"Results are simply outstanding" The Times
"After glow lasts weeks" Stella
"Leaves your face feeling born again" City Am
"Magic hands of the A list favourite facialist. Super facial leaves you looking noticeably perky and lifted that jaws will drop" The Observer
"The best hands-on massage facial: she gets into your eye sockets and mouth and her technique works to lift and plump the skin – truly amazing. For years, Juliette Binoche took her on set to give her a facial every day before filming." The Telegraph
"Such an inspiration meeting Su-Man! I absolutely adored my treatment. Her dynamism and joie de vivre made it so special. This and the lasting effect of the facial would make me a regular customer – if just she wasn't so far away!" Julie Ma Poon, Mauritius 
"I felt like a newborn after this treatment. My facial expressions were relaxed and I felt younger and fresher. Su-Man's healing presence and personalised way to do treatments made it special for every client." Hotel Manager, The Ritz-Carlton, Doha